Lavone Frerichs, 86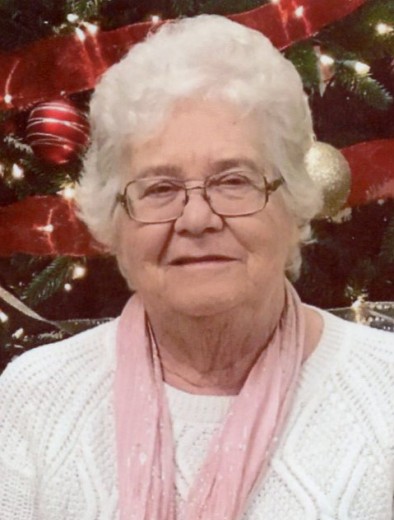 Lavone Frerichs, 86, of Greene, passed away Thursday, March 16, 2023. Funeral services will be held at 11:00 a.m., Saturday, March 25, 2023, at St. John's Lutheran Church - Vilmar. Visitation will take place from 9:00 a.m. to 11:00 a.m. prior to the service at the church. Burial will take place at Rose Hill Cemetery in Greene. Counsell Woodley Funeral Home of Greene is caring for Lavone and her family.
Lavone was born January 26, 1937, near Greene, to parents Alvin and Leona (Heuer) Landers. After graduating high school in 1954 she was united in marriage to Larry Frerichs on April 20, 1958, at St. Peter Lutheran Church in Greene. To this union three sons were born: Brad, Brit, and Bryan. 
She worked primarily as a bookkeeper, first at the Albrecht Hatchery and then at the Corner Feed Store, both in Greene. Later in life Lavone helped serve meals at the senior center in Greene. She also helped produce the St. John's Church monthly paper. 
In her free time Lavone enjoyed fishing and camping with her husband. She also enjoyed gardening, and even had quite the impressive strawberry patch for a number of years. Lavone looked forward to her monthly dinner at Applebee's with her classmates from the class of '54. Most of all she loved spending time with her grandchildren. 
Lavone was preceded in death by her husband Larry, parents Alvin and Leona (Heuer) Landers, brother Roger Landers, brother-in-law Carrol Frerichs, and sisters-in-law Linda Landers and Peggy Lebeck. 
Left to cherish her memory include her sons; Brad (Carol) Frerichs, Brit (Becky) Frerichs, and Bryan (Lori) Frerichs, grandchildren; Chance Frerichs, Lindsay (John) Brinkman, Jenny Frerichs, Dylan (Dana) Frerichs, Lee (Courtney) Frerichs, and Cody Frerichs, step-grandchildren; Dan Ross and Katie Turner, numerous great-grandchildren, and her sister-in-law Karen Kettwig.
Category:
Tribune-Journal & Star
101 N. Main St.
P.O. Box 788
Clarksville, IA 50619
Phone: 319-278-4641
Mid-America Publishing
This newspaper is part of the Mid-America Publishing Family. Please visit www.midampublishing.com for more information.