Eugene Herman Wedeking, 84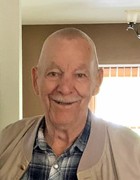 Eugene Herman Wedeking, age 84, of Clarksville, Iowa, was born the son of Emil C. and Louise (Wilken) Wedeking on November 23, 1938, in their home near Clarksville, Iowa. He received his education in the Clarksville Public School and graduated in 1956.
Eugene was united in marriage with Delores M. Reints in 1958 at the First United Church of Christ Pleasant Valley, in rural Clarksville. After marriage they made their home in Clarksville until September of 1999 and moved to Nashua, Iowa. Gene had worked for Robert Dempsey Electrician, Williams Oil Company, and Oren Bohlen Grinding all of Clarksville. In 1964, Gene started employment with Mid-American Energy Company, from which he retired in 1996. In 2020, the couple moved to their present home in Clarksville.
Gene had served several terms on the church council and also Clarksville city council. His interests included fishing, gardening, hunting, playing cards and golf. Most of all he loved the time spent with his family. Especially the time spent with his grandchildren and great grandchildren.  
On Saturday, March 11, 2023, Gene passed away at UPH - Allen Memorial Hospital in Waterloo, Iowa, of natural causes. He is preceded in death by his parents and brother, Lyle Wedeking.
Gene is survived by his loving wife of 64 years, Delores Wedeking of Clarksville; son, David (Cindy) Wedeking of Clarksville and Debra (Corey) Jacobs of Clarksville; six grandchildren, Matthew Wedeking of Cedar Rapids, Iowa, Brandon (Tyler) Wedeking of Waukon, Iowa, Katie Jo (Matt) Funk of Cedar Falls, Iowa, Collin Jacobs of Cedar Falls, Iowa, Dylan Jacobs of Cedar Falls, Iowa and Darian Jacobs of Ames, Iowa; four great grandchildren, Harrison and Lisbon Wedeking, and Walker and Memphis Funk; niece, Karen (Jim) Norton and nephew, Stanley (MaryAnn) Wedeking from Minnesota and other numerous relatives. 
Funeral services will be held at 10:30 a.m., Thursday, March 16, 2023,  at Immanuel United Church of Christ in Clarksville, with Pastor Jim Brown officiating.  Sharon Leerhoff will be the organist.  Special music, "When I Get Where I'm Going" and "Wind Beneath my Wing" will be played.  Casketbearers are Gene's grandchildren, Matthew Wedeking, Brandon Wedeking, Collin Jacobs, Dylan Jacobs, Katie Jo Funk and Darian Jacobs.  Hoonorary Casketbearers are Gene's great-grandchildren, Harrison Wedeking, Lisbon Wedeking, Walker Funk and Memphis Funk.
Visitation will be from 4:00 p.m. to 7:00 p.m. on Wednesday at the Redman Funeral & Cremation Services in Clarksville, and one hour before services at the church.  Memorials may be directed to the family.  Online condolences may be left at www.redmanfuneral.com
Category:
Tribune-Journal & Star
101 N. Main St.
P.O. Box 788
Clarksville, IA 50619
Phone: 319-278-4641
Mid-America Publishing
This newspaper is part of the Mid-America Publishing Family. Please visit www.midampublishing.com for more information.